Deborah Karasik: Crafting a Beautiful Life
For nearly 20 years, Deb Karasik combined her teaching skills and innovative designs in quilting workshops she taught around the world.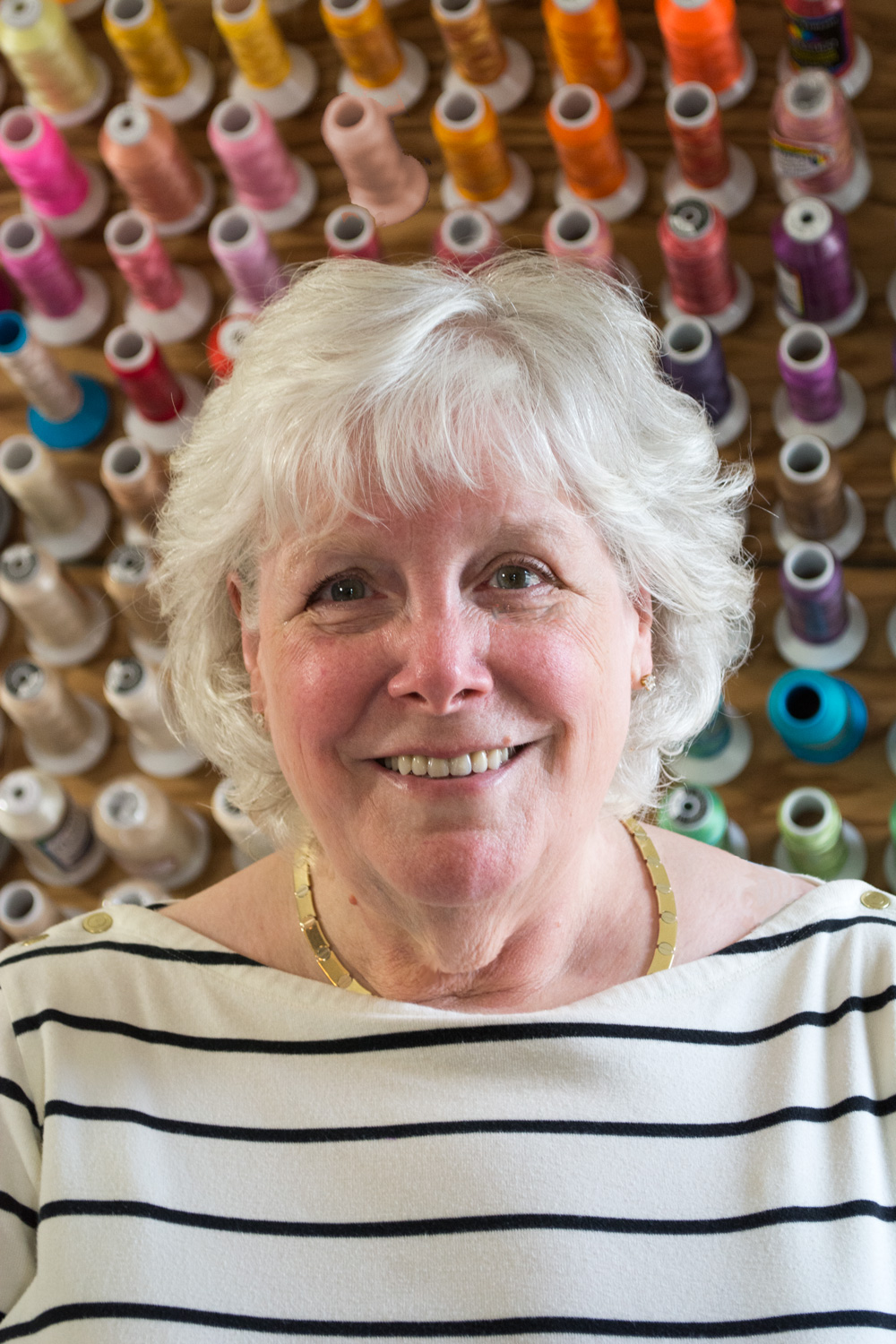 Deb was inspired to start quilting years ago when one of her daughters became pregnant with triplets.
A life filled with quilting, family, and good health took a sharp turn this past spring when Deb began vomiting and couldn't stop for days. Ultimately receiving a diagnosis of portal vein thrombosis—a blood clot causing blockage or narrowing of the blood vessel that brings blood to the liver—Deb endured two hospitalizations. "She ended up in the Duke ICU and basically, the doctors there saved her life," says Jeffrey Karasik, Deb's husband. "She was in bad shape, being treated for sepsis and the thrombosis."
After 29 days in the hospital, Deb was ready to be discharged but still needed infusion of antibiotics, occupational therapy, and physical therapy. "I was extremely apprehensive about bringing her home rather than having her to go to a rehab facility," says Jeffrey. "I didn't think that I could handle helping her by myself." Enter the Duke Home Care and Hospice Team!
"They do their work in such a loving and encouraging way that I knew I could get better. They gave me my life back."
"From the moment, the Duke home care people started coming, they gave me confidence that Deb was getting better and there would be life at the end of tunnel," he says. "The support and encouragement they provided me—and knowing that I had other people at my back—was very comforting."
Deb agrees. "When I left the hospital, I came home feeling like I would never get better," she says. "Hagar, my occupational therapist, and Amy, my physical therapist, knew exactly what to do to help me gain strength." When the therapists began working with Deb, she was unable to sit up or move her arms or legs. "They would encourage me, saying, 'Don't worry; you're going to get there,'" says Deb. "They really changed my life. I'm a human being again. Today, for the first time, I walked through a grocery store. I'm showering by myself. It's wonderful to have back all the things I didn't have the luxury of doing."
In addition to have home PT/OT for eight weeks, Deb needed infusion services for 20 days at home. "The Duke pharmacy was terrific with the infusion meds, ensuring that it was always delivered on time with nothing ever missing," says Jeffrey . "After being trained in the hospital on giving the infusion to Deb, I was glad to have the hospice nurse watch me at her first home visit and assure me that I was doing it correctly." Having the home health nurse visit once or twice each week provided additional reassurance to the Karasiks.
"I am forever indebted to my Duke Home Care and Hospice home health and infusion teams," says Deb. "They do their work in such a loving and encouraging way that I knew I could get better. They gave me my life back."     
I am forever indebted to my Duke HomeCare & Hospice home care and infusion teams.
- DEBORAH KARASIK, former home care and infusion patient
YOUR GIFT CREATES A BRIGHTER FUTURE FOR OUR PATIENTS AND THEIR FAMILIES
We appreciate gifts of every size and ensure that your generous donation is used to provide comfort for our patients and their families. You can choose a dollar amount to give now or continue exploring more ways that you can support Duke HomeCare & Hospice.