Your generosity brings healing when there is no cure.
Each gift helps ensure that your loved ones, neighbors, and thousands of community members receive the best possible care and comfort at Duke HomeCare & Hospice every year.
WE DEPEND ON YOU
Duke HomeCare & Hospice relies on the generous support of our many friends, grateful patient families, and community collaborators. Every contribution helps build a lasting foundation that enables us to achieve our mission of providing thoughtful care and comfort to our patients, their families, and our community. Explore the many ways you can contribute to Duke HomeCare & Hospice and discover how your gifts make a lasting impact.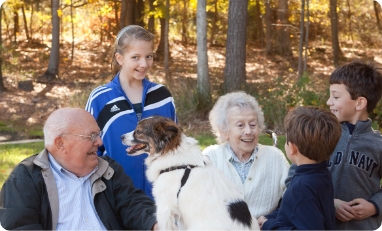 Your gift creates comfort, wherever a loved one calls home.
We appreciate gifts of every size and ensure that your generous donation is used to provide comfort for our patients and their families. You can choose a dollar amount to give now or continue exploring more ways that you can support Duke HomeCare & Hospice.
When you make a financial gift to this organization, you can see the money in action. The courageous staff are here in our homes when really sick people are dying. Most of use are afraid of death and these staff walk right in fearlessly. They do this work at end of life willingly and with dignity. That is priceless!
Yvonne D. Davis, a grateful daughter