Phyllis McBroom: Surrounded by Love and Family
Phyllis McBroom spent her life in Burlington, NC. The Alamance County town where she was born is also where Phyllis raised her two children, worked in the Brown Wooten Mills, drove a school bus, and was active in the women's ministry and as an usher at Green Level Christian Church. Thanks to home hospice support from Duke Home Care and Hospice (DHCH), Phyllis was able to spend the end of her life in her beloved home until she passed away on April 4, 2021.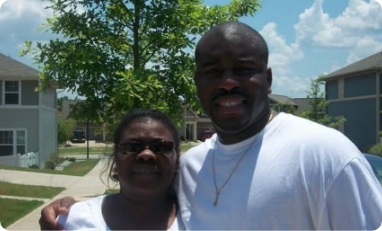 After being diagnosed with lung cancer in December 2018, Phyllis underwent nearly two years of chemo and radiation before being told in November 2020 that the treatments were no longer working. "I called the week of Thanksgiving and within two days, Duke Home Care and Hospice delivered the equipment—including a walker, hospital bed, bedside commode, and medications—that my mom needed so she was comfortable for the holiday," says her son, Derrick Chambers.
Chambers is a human resources generalist for Duke Health Technology Solutions, after serving 20 years in the U.S. Army. "It means everything to me that my employer has the reputation of being one of the nation's leading healthcare organizations," says Derrick. "
Duke is not only a great place to work but the Duke care provided to my mom was super supportive. This is probably the best hospice care team in the state."
"I moved back to North Carolina understanding that I would do what I could do to support my mom going through her health journey," he says. A devoted son, Chambers was stressed by the many demands in his life. In addition to his full-time job, he and his wife, Chriscynthia (a health care administrator for a Duke health facility in Wake Forest) are raising six children, ranging in age from 12 to 23. "Having the hospice team helping at my mom's home really relieved the pressure from me," he says. "I felt like I was wearing two hats a lot: my mother needed me and it was painful and frustrating when I couldn't be there; I also needed to be working and handling family matters. My sister is a single parent with two kids so her time was also limited."
Phyllis was grateful to remain at home during the end of her life. "It gave her a chance to see her grandchildren and other family members at home where she was comfortable," says Derrick. "She knew she was cared for, she looked good, and she was comfortable."
Derrick raves about the care provided by his mom's team. "The lead nurse, Bobbie, was phenomenal," he says. "I felt from the very first interaction that she wasn't just doing a job;  she cares about her patients." He says that Bobbie called him regularly when he was unable to be present during her visits. "It helped me to know there was a professional caring for my mom doing things for her that I couldn't do myself," he says. "And the aides who bathed my mom and helped her out of bed took the care to another level, especially once my mom couldn't care for herself."
"I'm grateful that I'm employed by a place that was able to provide such excellent care," says Derrick. "Hopefully my mom was proud that I was able to get her the care she needed."
Having the hospice team helping at my mom's home really relieved the pressure from me…
- DERRICK CHAMBERS, Devoted son of Phyllis McBroom
YOUR GIFT CREATES A BRIGHTER FUTURE FOR OUR PATIENTS AND THEIR FAMILIES
We appreciate gifts of every size and ensure that your generous donation is used to provide comfort for our patients and their families. You can choose a dollar amount to give now or continue exploring more ways that you can support Duke HomeCare & Hospice.