Tyler Trexler: The Power of Community
Tyler Trexler's senior year at Cary's Green Hope High School was anything but typical. A captain of his school's basketball team, Tyler attended team camp the summer before senior year while experiencing excruciating pain in his left leg. "He still played, because he's a leader, but he struggled through with pain," says his dad, Mark. It turned out that Tyler had Ewing Sarcoma, a rare bone cancer.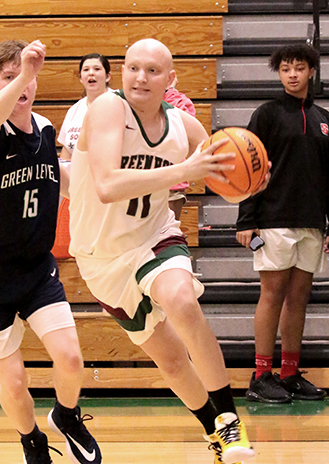 Over the course of seven months in his senior year, Tyler completed 14 rounds of chemotherapy and 31 proton radiation treatments. He spent 59 night in the hospital, both at Duke Hospital and Children's Hospital of Philadelphia (CHOP), which offered proton radiation unavailable at Duke. During his treatment at CHOP, Tyler received treatment during the day and returned to his hotel room at night with a backpack filled with IV hydration lasting for eight hours.
Tyler returned to Duke for care in spring 2020, just as the pandemic was forcing Duke Hospital to prohibit visitors for adults. "Ironically, even though Tyler was a pediatric patient, he was over 18 so the rule was that he needed to stay overnight without a parent," says Mark. Not wanting Tyler to stay in the hospital on his own, the Trexler family worked with Duke Home Care and Hospice and Duke Hospital to arrange outpatient chemotherapy treatment followed by a nightly return home with a hydration backpack, and a home care nurse arriving at the Trexler home when the fluids ran out each evening.
It was a big deal to be able to get treatment and not stay overnight in the hospital...
Mark says that while going through chemo and dealing with side effects is very difficult, the isolation was almost worse for Tyler. "Especially for a teenager, it's so hard not being able to do what you want," he says. "Once he was able to stay at home at night, sleep in his own bed, walk outside with Lucy, our chocolate lab, everything turned around completely. All of those things were good treatment for him."
Thankfully, Tyler is in full remission. He recently completed his first year at UNC Chapel Hill where he is a member of the Buckley Public Service Scholars program for undergraduates committed to making a positive impact through service. "One of the things Tyler learned through this experience is the power of community and the outpouring of generosity from his friends and family," says Mark.
Tyler is already giving back, helping to organize a "Volley Bro" tournament at Green Hope which raised over $3,000 for the Ewing Sarcoma Foundation. He has registered for October's Over the Edge for Duke's Children, a fundraising event for Duke Children's Hospital, during which he and other supporters who have raised a minimum of $1,000 will rappel down a downtown Durham building.
"Missing my senior basketball season was one of the hardest things," says Tyler. "But I got to play on senior night, both the first two minutes and the last minutes of the game." His dad says that the final game could not have been scripted any better as Tyler scored the last five points of the winning game.
"My wife and I committed to being by Tyler's side every minute through his treatment," says Mark. "Having Duke Home Care provide a home hydration service for Tyler enabled us to be with him and keep our promise."
My quality of life was so much better because I could get a good night's sleep at home and have friends hang out with me.
- TYLER TREXLER, former infusion services recipient
YOUR GIFT CREATES A BRIGHTER FUTURE FOR OUR PATIENTS AND THEIR FAMILIES
We appreciate gifts of every size and ensure that your generous donation is used to provide comfort for our patients and their families. You can choose a dollar amount to give now or continue exploring more ways that you can support Duke HomeCare & Hospice.